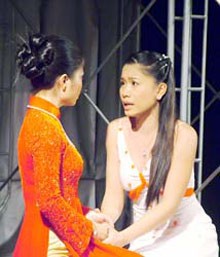 Two young actresses: Anh Tho (R) and Tang Bao Quyen in Romeo and Juliet
After two months of rehearsal, the couple of American directors Mark Woollett and Candace Clift and Vietnamese young artists introduced the play "Romeo and Juliet" at Youth's World Theater, in Ho Chi Minh City Cinema and Theater College on May 25-27, 2006. The play was a cultural activity of the exchange and cooperation between the two countries.
The first impression that the couple of American directors brought to audiences is simplicity and attraction with the new and interesting plots. The sadness of the play was lightened by comic and unexpected situations.
Firstly, audiences were turned into spectators to the fight between two families of Montague and Capulet. Then, young artists in Vietnamese traditional clothes, such as  Ao Dai  and Khan dong (Khan dong is a black piece of fabric wrapped around a girl's long hair so that it forms a tube around the hair), played Shakespeare's characters.
The directors logically changed conflicts of a foreign play into those typical of Vietnamese. In fact, the problems in "Romeo and Juliet" not only happened in the UK, but they might also take place anywhere in the world.
The play regretfully did not demonstrate well the Vietnamese harmony of conflict but it could be completely understood, because two directors Mark Woollett and Candace Clift have not lived in Viet Nam long enough to understand thoroughly the Vietnamese culture.
The young artists also created good impression to audiences. Lan Phuong and Anh Tho had their own creativities in the role of Juliet. Thuy Duong was so graceful with the role of nanny. And Tan Phat, cast as Romeo, appealed to audiences.