To step up the number of community classes and recreational programs offered in Ho Chi Minh City, officials have endeavored over the years to open more public venues in wards around the city.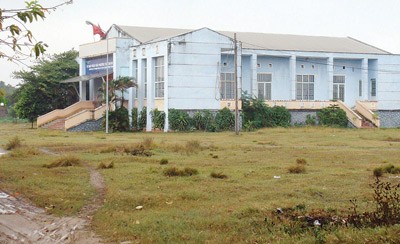 HCMC's Tan Chanh Hiep Ward cultural house, in which billions of Vietnamese dong were invested, sees virtually no visitors (Photo: SGGP)
Known as "cultural houses," the new venues have seen mixed success, though most have failed to attract large numbers of locals.
The city has poured huge sums of money into developing the houses, often borrowing heavily from the municipal budget, only to see them go virtually unused.

Shoddy organization, fees discourage public
The first impression one gets from the cultural house in Ho Chi Minh City's District 10, Ward 1 is that it lacks professional organization. A host of advertisements and banners for clubs including yoga, bodybuilding, dancing, and computing classes are plastered haphazardly on the outer walls. It is difficult to read many of them and the class details are scant.

An employee from the house said that most people who use the space are from outside clubs who rent the area to practice here. These clubs communicate directly with the ward people's committee to work out monthly rental agreements and the committee decides who is allowed to use the space. 

The cultural house in Tan Thoi Hiep Ward, District 12 has also seen little action since opening in 2008. Despite its large size and well-equipped facilities, the house has remained virtually deserted. A children's playground has been covered up for several months while a performance stage hasn't seen a concert in ages.

The one feature that has proved popular at the house is a library stocked with around 6,000 books. It opens three days a week and readers can take books home. A library worker, Ms. Nguyen Thi Siem, said, "The busy time is nighttime when around 50-60 readers come in."

The cultural house in Tan Chanh Hiep Ward, District 12, meanwhile, has fared even worse. Most locals don't even know about it, despite its enormous size. The house is closed most of the time with only the football field seeing some occasional action.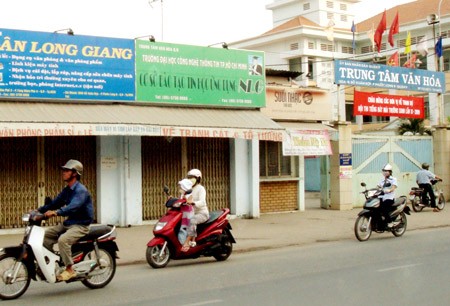 District 9's cultural house has to rent out some of its space to other companies in order to stay financially afloat (Photo: SGGP)
The same situation is seen at the Phu Huu Ward cultural house in District 9. Built in 2005 in a remote area of the ward, the house has also failed to attract locals. When visiting the area, reporters saw a strange sign outside which read "Public consultant, standby health center," rather than stating that it was in fact a cultural house.

Asked about the misleading notice, Vice Chairman of the house Nguyen Hoang Vu said, "The house truly works inefficiently. Since October 2008, ward officials have allowed the Public Consultant Department from District 9's Standby Health Center to use the house as their temporary working place. We will take it back in June and endeavor to make the house more attractive."
Obstacles to overcome.
The first and biggest obstacle to running a successful cultural house is securing adequate funding, yet most employees who run the houses are not professional managers.
Vice Chairwoman Do Tra My of District 10's Ward 11 People's Committee said, "In my opinion, only free programs attract locals. But, if the house only offers free programs, where will its money come from?"

Ms. My mentioned a female gym class as an example. When the class first opened it was free, but later, in order to pay the instructor, the house was forced to start charging for the class. Day by day, the number of participants began to drop, she said.

Thus, many houses turn to renting out space to outside clubs to earn more funds.
 
Mr. Tran Van Thanh, director of the Cultural Center in District 2, suggested linking up some of the city's ward houses. Mr. Thanh believes this could help minimize waste in terms of finance and human resources. He also thinks it could improve the quality of public programs offered through the houses. 
Mr. Thanh suggested the ward houses should operate under the districts' cultural centers, instead of the ward people's committee as they do now. Under professional guidance from the more active centers, he says, the quality of activities could improve vastly. 

Agreeing with Mr. Thanh, Mr. Nguyen Hoang Vu, vice chairman of the Phu Huu Ward People's Committee added: "This solution would help relieve stress and pressure felt by people's committee officials since they are not well acquainted with some of the cultural house workings."
However, Mr. Thanh disagreed with the suggestion to hand management of the houses over to the district cultural centers.

Success stories few and far between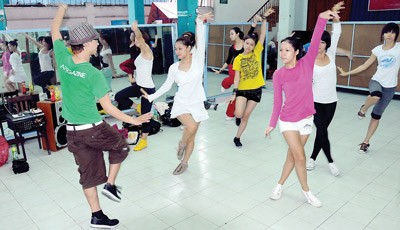 The Buoc Nhay dance group practices at a cultural house in HCMC's District 10, Ward 10. It is one of just a few community houses to enjoy success in the city's wards (Photo: SGGP)
The cultural house in Ward 10 of HCMC's District 10 is a rare success story. The fully equipped 300-square-meter house opened to the public in September 2001. It came complete with a sound system, computers, stationery and even some musical instruments.
The venue hosts several cultural and sports activities, holds special skills classes for 200 local students, and set up a free library with 3,000 books. The house also makes a point of publicizing information about how to lead a civilized and thrifty lifestyle.
Many of the activities offered here have received positive feedback from the locals, such as the granting of marriage certificates to young couples and providing information about marriage and family law. Others enjoy free-haircutting sessions held every Saturday.
The vice-chairman of the house, Mr. Le Thanh Tuan, said it was a proud accomplishment to have run a successful community house for the past several years.
 
Another cultural house in HCMC's District 10, Ward 11, has also enjoyed a good public response. Despite its relatively smaller size, the community house is always busy and offers a variety of activities and clubs for locals.

Among the options are a Western-style folk music club with 15 members, the Happy and Healthy club with 18 members, a table-tennis club, and a Taekwondo club. The house also offers practice space for local modern dance groups.

When asked about the idea of allowing the dance groups to practice here, Vice Chairwoman of the house Le Kim Minh said: "We suggested that instead of simply renting out the space to rehearse, the groups should give something back to the house by helping choreograph other performances here.

"We will support any group who wishes to practice here if they accept our proposal. Every month, they only have to pay a little from their pocket to pay the electricity and water bills instead of paying the full rental price. In return, they will have to help the house in choreographing our performances," she said.