2008 was year of rising stars in the entertainment industry. Most of them gained glory at a very young age.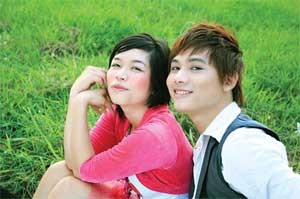 Hoa Mi (L) and Dai Nhan (Photo: SGGP)
Being one representative of the artistic generation that has become celebrities via the internet, Hoa Mi – Dai Nhan are the most impressive duet for fans, especially teenagers.  
The duet first gained the hearts of audiences with their performances on an annual TV music competition for high school students, 'Tuoi Doi Menh Mong' (Young Age), in 2005 but had to wait two years to find their voice in their first duet song of their own 'Canh Dong Bo Cong Anh' (The Field of Dandelions) - a Vietnamese version of the Japanese song 'For Fruit Basket' taken from the soundtrack of the anime 'Fruit Basket.' This song quickly went down a storm in most local charts and remained there for sometime. It helped the performers become one of most popular teen pop groups. 
As for personal achievements, Hoa Mi was in the top five of female contestants in the finale of TV Music Star 2007, top 30 of Vietnam Idol 2007, while Dai Nhan pocketed the Best Male Solo at the teen music festival 'Chu Ve Con' (Young Cicada Nymph) and had his song 'Dem Dom Dom' (Night of Fireflies) performed and nominated in the finale of 'Bai Hat Viet' (Vietnamese song) 2008, an annual television contest for Vietnamese composers in which professional singers sing their compositions over several months.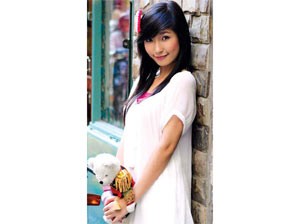 Khong Tu Quynh (Photo: SGGP)
Another representative of the teen celebrity generation, Khong Tu Quynh found fame in TV commercials. Being one of the first choices for adverts, Quynh quickly become familiar with TV viewers, especially those of the same age.  
In 2008, Quynh tried her hand at singing with her debut 'Tiem Banh Dau Tay' (The Strawberries Bakery), a duet with Thien Minh. It was shared online and received various support and good feedback from internet audiences. A series of hits, like 'Xe Buyt Hai Tang' (Double-decker bus), 'Vong Xoay Ngua Go' (Merry-go-round), also helped her to increase her popularity in the teenage community.  
WanBi Tuan Anh, 21, also had few hit songs online, 'Nam' (Mushroom), 'Kem Dau Tinh Yeu' (Strawberry Ice-cream of Love) featuring Toc Tien and 'Dem Mua Dong' (Winter Night) before releasing his debut album 'WanBi 0901' with the hit 'Doi Mat' (Eyes).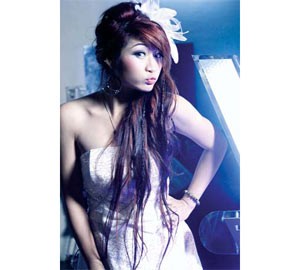 Van Navy (Photo: SGGP)
'Cinderella,' Van Navy, came from the 'dream' of Miss Audition 2007 – a beauty pageant of the online game. Van, a Hanoi College of Music and Art's student, started her professional singing career at the 'The Gioi V-Pop' (V-Pop World), a monthly Vietnamese TV music show. Previously, Van Navy also tried writing Vietnamese lyrics for some foreign songs and wrote one of the most popular songs 'Chuyen Tinh La Va Gio' (The love story of leaf and wind), a Vietnamese version of the Japanese song 'Moon and Sunrise' by BoA.  
Besides online artists, some new faces of Vietnam showbiz were found in some of the nation's music competitions. One such performer is Duong Hoang Yen. She gained fame via the annual music competition 'Sao Mai Diem Hen' (Morning Star Rendezvous) by Vietnam TV. Though not winning the contest, she somewhat satisfied the demands of the audience for new stars with new breakthroughs in music. 
Yen, 18, possesses a huge collection of prizes and awards, including first prize at 'Dan Va Hat voi Casio Toan Mien Bac' (Sing and Play Casio's instruments' - Southern group) over 2004-2005, first prize at 'Tuoi Doi Menh Mong' 2007 and gold medal at 'Giai Dieu Tuoi Hong Toan Quoc' (Nation Teenager Melodies) 2007. 
Other music competitions, 'Tieng Ca Hoc Duong' (High school Student's Voice) 2008 found two new stars Dinh Manh Ninh (first prize) and Do Tung Lam (second prize). Lam later finished off the 'Ngoi Sao Tieng Hat Truyen Hinh' (TV Music Stars) 2008 with the highest honor.  
All these stars are welcome signs for the local entertainment industry in general and music industry in particular. The young singers are seemingly more active than their older generation, as they always take their chances to participate in other fields like being MCs and models on the catwalk.