Two short films are made with the scripts among the five winners in a total of 44 scripts sent to the contest of short film scripts by young directors were shot by the Ho Chi Minh City Association of Cinema.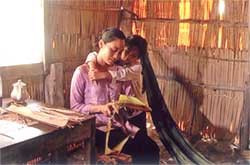 A scene in Nhung doi dep chuoi (Sandals made of banana tree's skin)
The films are Nhung doi dep chuoi (Sandals made of banana tree's skin) by Huynh Thi Ngoc Tam, 21, student of Ho Chi Minh City Cinema and Theater College, and Nhat ky mot sinh linh (Diary of a human) by Nguyen Tuong Phuong, 23, student of Ha Noi Cinema and Theater University's HCMC branch.
Although the ideas and the ways of presenting are different, the common outstanding features of these films are love and the young people's contemporary view of the problems.
The "Sandals made of banana tree" tells a story of hard life in the central coast, where there is much hot wind and sand. A little girl walks across yellow sandy fields to school everyday on her bare foot. Taking compassion on daughter, mom peels banana tree to entangle sandals for her daughters. Then, "banana sandals" become popular among children from other poor villages of the land. The truthfulness and lyricalness of cinema language are represented harmoniously.
The "Diary of a fetus" deals with a pregnant young woman's worry after her love broke down. Her unfaithful lover disappears without a trace. She is obsessed by her baby that she has aborted. The scenes of present intermingling with those of the future, images of bloodstream and the windows were banged in a windy rain night bring strong impressions to audiences. The message is clear: what will become of the babies born in such condition and what is the responsibility of young people falling in love.
Although too few scripts are turned into films and only VND30 million is reserved for a film, it is considered as an encouragment of the Ho Chi Minh City Association of Cinema for young students in promoting their talent. We can expect new signals from these promising young film directors.