The 'Nghinh Ong Festival' (Whale Worship Festival) opened in Ho Chi Minh City's Can Gio District on September 26.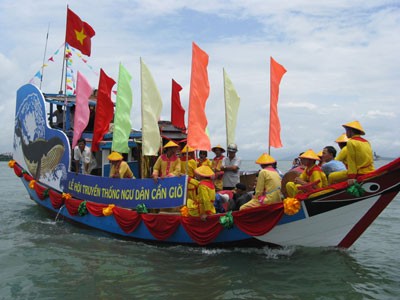 Nghinh Ong Festival (Whale Worship Festival) opens in Can Gio District. (Photo: Sggp)
The annual festival is celebrated on the fifth day of August on the Lunar Calendar with festivities including various rituals to worship the Whale or Ca Ong, and prayers for good seas, happiness and prosperity.

It is an opportunity for Can Gio district to promote its image and highlight its quintessential traditional features to local and international visitors.

A new service of a cruise ship, King Yacht carrying tourists from the city center to Can Gio located 40 km southeast of Ho Chi Minh City has been launched on this year's festival.

A series of entertainment and cultural activities such as visiting the Rung Sac martyr's cemetery, traditional music performances, food fair, traditional market, a circus performance and folk games were launched throughout the festival days.

The coastal district attracts people with Rung Sac (Sac Forest) listed by UNESCO as the world biosphere reserve in Vietnam and Can Gio Mangroves Biosphere Reserve.

The Ministry of Culture, Sports and Tourism recognized the annual Nghinh Ong (Whale Worshiping) Festival held in Can Gio District in Ho Chi Minh City as a National Intangible Cultural Heritage in 2013.