The annual 'Nghinh Ong Festival' (Whale Worship Festival) is being held in Can Gio District of Ho Chi Minh City from September 9-14.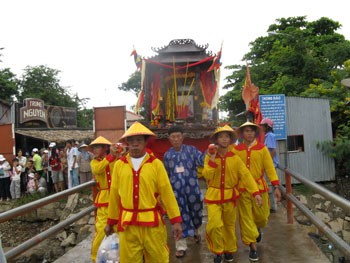 The annual Nghing Ong Festival in Can Gio District, in Ho Chi Minh City.  (Photo: Uyen Phuong
A series of entertainment and cultural activities such as visiting the Rung Sac martyr's cemetery, traditional music performances, a circus performance and folk games from coastal areas will be held throughout the festival days.
The highlight of the festival will be a ceremonial offering on September 13, showing gratitude to the whale and commemorating fishermen lost at sea, with a flower boat parade and release of lanterns on the sea.
 
The festival will also have a marathon race and a national walk competition with participation of more than 500 contestants from 48 cities and provinces across the country.
The Department of Culture, Sports and Tourism in Ho Chi Minh City endeavours to preserve the intangible cultural heritage of the Can Gio 'Nghinh Ong Festival', said Vu Kim Anh, the department's deputy director.
Local authorities always try to enhance the quality of the festival which is an opportunity for the province to promote its image and highlight its quintessential traditional features, added Doan Van Thanh, standing deputy chairman of the People's Committee of Can Gio District.
The coastal district will also attract people from Rung Sac (Sac Forest) listed by UNESCO as the world biosphere reserve in Vietnam and  the Giong Ca Vo ancient site dating back 2,500-3,000 years, he added.