The much awaited 'Ngo Boat Race' of the ethnic Khmer people of the Mekong Delta will take place during the annual Ooc Om Boc Festival on the Máspero River in Soc Trang Province on November 9-10 this year.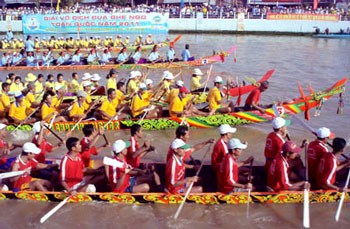 Ngo Boat race .(Photo: SGGP)
Besides the participating 40 teams from Soc Trang, there will be teams from neighboring provinces such as Kien Giang, Tra Vinh, Hau Giang, Bac Lieu, Ca Mau and Vinh Long also taking part in the event.
The boat race will mark the 2nd Vietnam Rice Festival 2011. Organizers expect to make the traditional boat race into a national annual event in future.
Over the two days leading up to the tenth full moon day of the year, when rains cease and rice is ripening in fields, the Khmer people in the Mekong Delta province of Soc Trang entreat their moon deity for a bumper crop and good fortune during the festival of Ooc-om-boc.
The festival will offer plenty of entertainment too, in the form of concerts and stage shows, traditional sports and games, releasing of buoyant paper lanterns into the air and on the river.
The ritual moon-worship ceremony is observed in the yards of pagodas and private homes.
People pray for good luck, happiness, good weather and a bumper crop, and express their sorrow and worries and pray that their god will bestow favors on them and give them a better life.
After worship and prayers, both young and old  get together to play games or dance and sing in the moonlight. Everyone has a good time and it's a great opportunity for making friends and bonding together.
Soc Trang lies in the Mekong Delta and is 230 kilometers from Ho Chi Minh City.