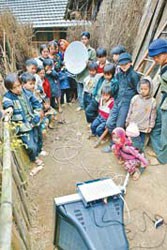 "Watching Viet Nam TV by parabola antenna in Ha Giang nothern mountain province"
Vietnamese photographer Nguyen Viet Thanh won a golden prize of the first Asia Press Photo Contest (APPC) with his work "Watching Viet Nam TV with parabola antenna in Ha Giang Northern Mountain Province" for the genre of Daily Life.
The award ceremony was organized in Beijing (China) on June 1, 2006.The contest consists of eight golden prizes for eight genres of daily life; sports; art and entertainment; nature and environment; science and technology and general news.
Nguyen Viet Thanh, 30, at present, is photographic reporter of Viet Nam News Agency. Nguyen Viet Thanh and photographer Hoai Linh created Photoworld, a forum of press photo on Internet.
Link: www.photoworld.com.vn