Forty-eight relics from the Nguyen dynasty era donated by private collectors to the Hue Royal Fine Arts Museum are on display at the former royal capital's An Dinh Palace.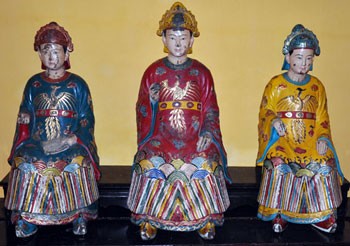 Worship bronze statues  from the Nguyen dynasty era are on the display  (Photo: TTO)
The objects on show at the exhibition, organised by the museum, are mostly made of silver, brass, precious stones, porcelain, silk, wood and paper.
Among them are a pair of ivory tusks donated by a Vietnamese expatriate living in France, a tea set gifted by Doan Phuoc Thuan, a collector in the central coastal province of Phu Yen, and a collection of King Minh Mang's poems written on paper donated by Frenchman Andre de Crozet.
A set of three life-size brass statues of Jesus's mother Mary, donated by a Hue-based company, is among the most valuable relics on show.
At the time of the exhibition's opening, Nguyen Huu Hoang donated a porcelain basin and plate, Le Gia donated a land register, and a group of collectors presented a pair of vermilion-lacquered gilded wood panels.
The exhibition will go on until the end of the year.
The Hue Royal Fine Arts Museum, run by the Hue Historical Relic Preservation Centre, houses a large collection of relics from the time of Vietnam's last imperial dynasty, which ruled from 1820 to 1945.