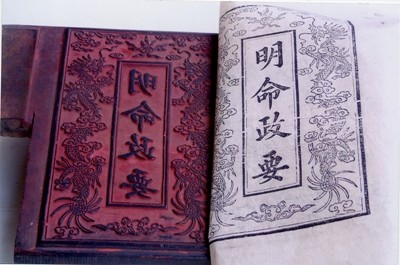 Nguyen Dynasty wood-block
The Ministry of Culture, Sports and Tourism has issued a circular that will ban nine categories of antiques and valuable ancient items from leaving the country's borders.
As per the circular, antique items not allowed to leave the country include prehistoric fossilized human, animal and plant species; prehistoric items of various materials of both historical and cultural value; research documents pertaining to the country's history, culture and sovereignty as well as on the country's heroes and cultural celebrities.
In addition, ancient items such as wood-blocks; official documents; family annals; imperial orders; indentures of special value belonging to the country's historical period before 1945; manuscripts and photographic works that have greatly influenced society from October 1945 till now; ancient deposits and items ranked and listed or belong to ethnic minority groups made before 1975 and those concerning revolutionary activities of soldiers;  and items made in foreign countries bearing historical and cultural value.
The circular clearly states that ancient items that are for exhibition, research or preservation in foreign countries are not included in the banned category.
This circular takes effect on February 15, 2013.