No gold prize for best feature film was given at the 2007 Golden Kite Award held by the Vietnam Cinema Association on Sunday evening in Ho Chi Minh City.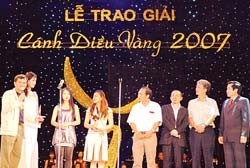 The film crew of "Little Heart" on the stage of the 2007 Golden Kite Award
Two silver prizes were given to "Little Heart" by director Nguyen Thanh Van and "The Kiss of Death" by young director Nguyen Quang Dung, who is the son of renowned writer Nguyen Quang Sang.

Dung also received an award for best script-writer with the same movie, while Van was named the best director.

Ho Nguyen Lan Ha won Best Actress for her lead role in "Little Heart", while pop singer Phuong Thanh won Best Supporting Actress with "The Kiss of Death".

Viet Nam's cinema found no "real man" as no Best Actor award was given, while Nguyen Van Du was named Best Supporting Actor for his role in "Dark Forest".

South Korean cameraman Park Jae Hong won a gold prize with "Muoi", the first joint Vietnamese-Korean production of a ghost-cum-mild-horror film.