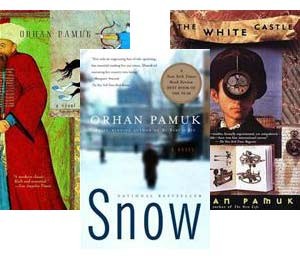 Covers of the three books "My Nam is Red", "Snow", and "The White Castle"
The Nha Nam Culture and Media Company secured the rights on Thursday to publish three books by Orhan Pamuk, the winner of the 2006 Nobel Prize for Literature.
The publishing house is planning to release Vietnamese versions of "My Name Is Red", "Snow" and "The White Castle" by the end of December.
"My Name is Red' brought fame to Pamuk, but it also caused him to be expelled from Turkey for his heavy criticism of his country's actions in the historical past. 
"Snow" is quite different and tells of the journey of a poet named Ka who returns to his hometown after a long time living abroad. In this book, the writer explores the conflicts between Western and Muslim values. 
In "The White Castle", through the story of a young Italian intellectual in the 17th century who travels from Venice to Naples and later becomes a slave trader in Constantinople, Orhan Pamuk delves even deeper into the complicated relations between East and West.