The Golden Lotus Award competition of the 16th Vietnam Film Festival has revealed the list of nominees. The festival will be held in HCM City from December 8-12.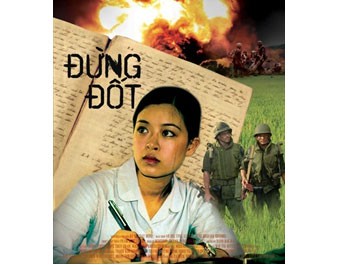 A poster introducing film "Don't Burn"
According to the Vietnam Cinema Administration, films produced and distributed between the 15th and 16th festivals (November 2007 to December 2009) can join.
Film studios have the right to choose nominees for the Golden Lotus Awards without quantity restrictions. The submission deadline was October 20.
In the past two years, Vietnamese film studios produced nearly 30 large-screen movies, such as "Don't Burn," "Moon in the Bottom of the Well," "Adrift," "The Owl and the Sparrow," "The Legend Is Alive," "Black Forest," "Little Heart," "Passport of Love," "14 Days," "The Price for a God," "Saigon Love Story," "Saving The Death," "The Hot Kiss," "Blink of Fate," "I Want to Be Famous" and "The Dance of Death."
According to the festival's organizing board, over 20 will participate in the festival.
Thien Ngan Galaxy, a big film producer and distributor, said that this year, it will submit only one work, "Saving the Death," a best-seller in the Tet 2009 film season. Meanwhile, BHD said that its nominee is "Beautiful to the Last Centimetre."
Thien Ngan and BHD only produce films for popular audiences during the Tet film season so they will only send one film to the festival.
Meanwhile, Phuoc Sang is a private firm with the highest number of nominees, three films: "Swordman," "Miss Muoi" and "Legend Is Alive."
Chanh Phuong Films registered two movies, "14 Days" and "The Owl and the Sparrow."
For state film companies, the number of nominees is remarkable, with three from Vietnam Feature Films Studio: "Black Forest," "Little Heart" and "Still Alive."
The latest is the first large-screen movie by Tran Trung Dung, a true story of a flight attendant named Hoang Thi Thu Hang.
The Vietnam Movie Association Film Studio's Director Hong Ngat revealed that her company submitted two films: "I Want to Be Famous" and "Don't Burn," which will represent Vietnam at the Oscars.
The Feature Film Studio chose "Adrift." This film will be introduced in local cinemas as of November 13, after traveling to many prestigious international film festivals like Venice, Toronto, Pusan, London and Bangkok.
"The Moon at The Bottom of the Well" will represent the Liberation Film Studios.
This year, besides familiar awards, the organizing board will present the "Best Film" award voted on by the media.
The Vietnam Film Festival is organized by the Ministry of Culture, Sports and Tourism and the Vietnam Cinema Administration each two years. It is one of the two key film events in the country, besides the annual Golden Kite Awards of the Vietnam Cinema Association.