The Thanh Pagoda in the northern city of Lang Son was officially given a place in the Viet Nam Guinness Records yesterday as "the pagoda with most monolithic bronze statues in Viet Nam".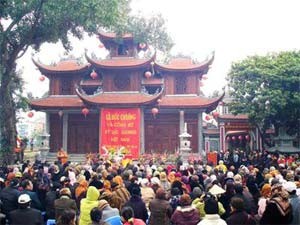 The ceremony held yesterday to celebrate the pagoda entering Viet Nam Guinness Records

Thousands of locals flocked to the pagoda yesterday to watch the ceremony honoring the pagoda's achievement, its 53 monolithic bronze statues of Bodhisattvas of all sizes.

After the ceremony, the pagoda's monks and 30 bronze casting craftsmen from the Ngu Xa village in Ha Noi cast a 2.1-ton, VND700-million (US$43,700) bronze bell.

Thanh Pagoda Vice Abbot, Venerable Thich Quang Truyen, said the weight of 2.1 tons conveys blessings of happiness and prosperity on the country for the 21st century.

The Thanh (or "Dien Khanh") Pagoda was built in the 15th century near the Ky Cung River. In feudal times, it served as a rest stop for state envoys on their way to China. Today, it is Lang Son province's center of Buddhism and indigenous culture.

The pagoda is renowned for its beautiful architecture and serene surroundings and has been recognized as one of the country's cultural and historical heritage sites.