The Bac Ninh Province People's Committee March 31 announced an upcoming festival from April 14-18 titled "Bac Ninh Literature – Gather and Shine."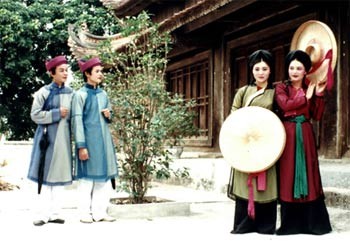 Quan ho performances, a unique tradition of Bac Ninh Province, will be officially recognized as "World intangible heritage" by UNESCO on April 17 during the "Bac Ninh Literature – Gather and Shine" festival
Addressing the press at Kinh Bac Cultural Center, event organizers said the festival will feature several activities related to art, culture, music and sport.  
In addition, there will be a relics exhibition and folk music singing contest along with local art displays including Dong Ho paintings, Phu Lang terracotta, Dai Bai bronze works, Dong Ky woodworks, and time-honored Quan ho performances.  
Traditional folk games like chicken fighting, releasing pigeons and human chess will round out the event. 
The highlight of the festival will be an April 17 ceremony to award a certificate of merit to Bac Ninh for its Quan ho songs, which are being recognized as a "World intangible heritage" by UNESCO.  
On the occasion, provincial officials will grant certificates of merit to 40 Quan ho craftsmen.