The Vinpearl resort on Hon Tre Island near Nha Trang is putting on four days of northern folk culture until tomorrow.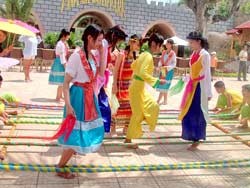 Nhay sap (dancing on a bamboo pole)
To entertain the overnighters and day-trippers, there are kylin and dragon dances, displays of martial art, puppet shows and folk games such as bit mat dap nieu (where a blindfolded person tries to beat a clay pot) and nhay sap (dancing on a bamboo pole).
Among the highlights are the age-old and very special quan ho folk songs of the province once called Kinh Bac and now named Bac Ninh.
Admission to all the entertainment and activities is free.
A Vinpearl spokesman says the resort will present more of Vietnam's diverse culture later in the year.