The festive season in the Northern region on the lunar New Year opens with Dong Da hillock Festival that has been kicked off on February 1 (on the 5th day of the first lunar month).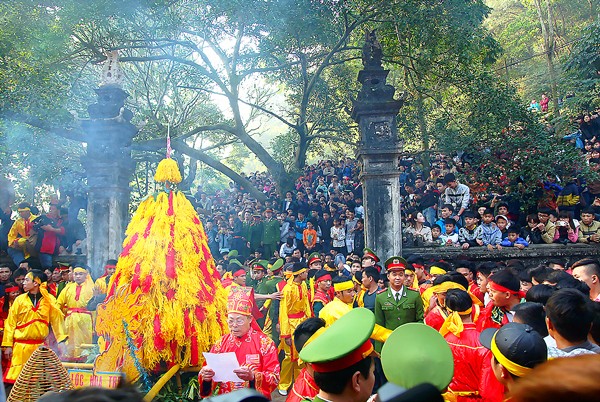 Saint Giong Festival at Soc Son Temple
Dong Da Festival aims to honor the memory of Emperor Quang Trung and other leaders of the Tay Son Uprising, and Ngoc Hoi – Dong Da victory over the Chinese Qing invaders at Dong Da (Hanoi) in 1789.

The 3-month Huong Pagoda Festival, the largest in Vietnam, will officially open in Hanoi's My Duc district on February 2 or the sixth day of the lunar New Year, with the attendance of tens thousands of pilgrims.

The Huong Pagoda Festival is Vietnam's longest and most elaborate spiritual festival and is believed to have started during the Le – Trinh Dynasty (15th to 18th century).

On the same day, some other major traditional festivals like Saint Giong at Soc Son Temple, Co Loa-Dong Anh and Hai Ba Trung-Me Linh have also officially opened in Hanoi.

Tich Dien (ploughing) festival at at Doi Son commune, Duy Tien district in the Red River Delta province of Ha Nam and Yen Tu Buddhist Spring Festival at the Yen Tu historical site in Uong Bi City, Quang Ninh Province City will be started on on the 7th and 10th day of the first lunar month respectively.

Lim Festival in Bac Ninh Province and the seal ceremony of Tran Temple in the coastal province in the southern Red River of Nam Dinh will take place on the 13th and 15th day of the first lunar month.

This month will see many regions in the country draw record crowds as they celebrate a rich and diverse traditional culture through colorful festivals.
The local authorities and relevant departments have also laid strict regulations to deal with violators and vandalism of Buddha's holy place of worship and the surrounding beauty, landscape and environment.