The author of the well-known children's tale, Adventures of a Cricket, To Hoai, yesterday passed away in Ha Noi at age 94, according to the Viet Nam Writers' Association.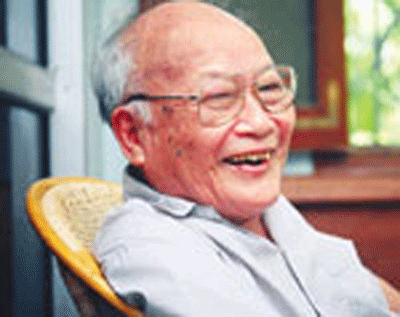 Noted writer To Hoai died yesterday, aged 94. Photo unescovietnsm.vn
Hoai was born Nguyen Sen into a craftsmen's family on the outskirt district of Thanh Oai, Ha Noi. However, he spent most of his childhood in his mother's native village, now Nghia Do Ward, Cau Giay District.
As a teenager, Hoai worked at various jobs, from being a teacher for children, selling goods, to being an accountant for traders in the city.
Hoai embarked on his literature career in the early 1940s, but he could not devote his life to writing until 1954. After 60 years of working in the literary world, he has written more than 100 works of different genres, from short stories, multi-series long stories, memoirs, novels, film scripts, essays and commentaries.
The writer is famous for a great number of works, including De Men Phieu Luu Ky, 1941 (Adventures of a Cricket); O Chuot, 1942 (Hunting Mice); Nha Ngheo, 1944 (Poor Family); Truyen Tay Bac, 1953 (Stories of the Northwestern Region); Mien Tay, 1967 (The Western Region); and Ba Nguoi Khac, 2006 (Three Others).
Besides his pen name, To Hoai, the writer also employed other names, such as Mai Trang, Mat Bien, Thai Yen and Pham Hoa.
"To Hoai's death was a great loss and a blank that will be hard to fill for modern Vietnamese literature. He worked in different genres and, in any field of his creation, he leaves behind his individual imprints," said Do Han, head of the Writers' Association's Administrative Office.
Hoai received the Ho Chi Minh Award in Literature and Arts (1996), and Bui Xuan Phai – For the Love of Ha Noi Award 2010 – as well as a number of awards for his literary works.