The Ok-Om-Bok festival , a moon worshipping ritual performed by the Khmer ethnic people, opened in the Mekong Delta province of Tra Vinh on November 20.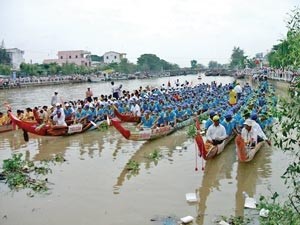 Ngo boat race in the festival
The event includes an industrial- agricultural and trade fair featuring 400 booths of local businesses in Tra Vinh and neighboring provinces from November 20-25.
The Ok Om Bok celebrations, also known as the Khmer Moon Thanksgiving Ceremony, fall on October 15 of the lunar calendar. It is a time for the Khmer to show their gratitude to the Moon Goddess for giving them a bumper harvest and rich aquatic sources.
The festival will offer plenty of entertainment too, in the form of concerts and stage shows, traditional sports and games, releasing of buoyant paper lanterns into the air and on the river.
The ritual moon-worship ceremony is observed in the yards of pagodas and private homes.
Tra Vinh is currently home to 320,000 ethnic Khmer, accounting for 32 percent of the province's total population. During the moon worshipping festival, Ba Om pond cultural relic site attracts thousands of local inhabitants and tourists.
The Ministry of Culture, Sports and Tourism announced the recognition of the Ok-Om-Bok festival as the 4th national intangible cultural heritage of southern Tra Vinh province in 2014.