Under the patronage of the German Embassy in Hanoi and the German Consulate General in Ho Chi Minh City, the German Business Association in Vietnam (GBA) will co-host and organize the famous Oktoberfests in Vietnam this year again.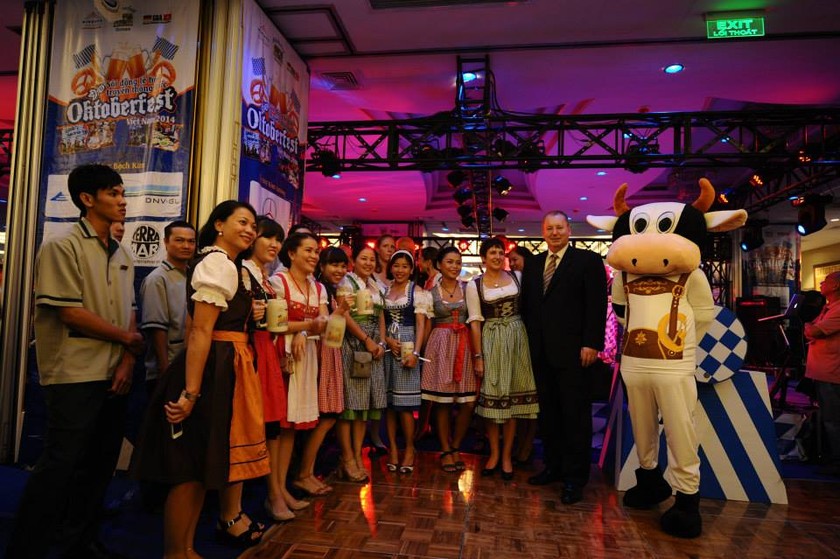 Oktoberfest 2014 took place in HCMC
The organizers expect to welcome more than 15,000 visitors in Ho Chi Minh City and 4,500 in Hanoi. It will not only be the largest German cultural and annual events in the country, but across South East Asia. The Oktoberfest Ho Chi Minh City is already ranked amongst the top 10 Oktoberfests outside of Munich/ Germany, according to the Reuters News Agency.
"We are proud that the GBA's Oktoberfests have become such popular landmark events with the Vietnamese and the entire foreign community in Vietnam. This bridges cultural gaps and brings people together in excitement. In view of the 40th anniversary of German-Vietnamese diplomatic relations, we strive to hold even bigger and better events this year, and we welcome all to join.", says Kai Marcus Schröter, GBA Board Member and Head of the Event Working Group.
The Oktoberfest Ho Chi Minh City and Hanoi 2015 will replicate the authentic atmosphere of the original event in Munich, with generous venues and seating, delicious German cuisine and famous Bavarian staples – sausages, sauerkraut, pretzels etc. – premium imported German beers and a great party mood. Authentic music is brought to you by the "Anton Showband", who truly impressed the crowds in 2014, and who will rock both cities through the evening this year. Our guests will once again 'go loud' with rock and pop hits as well as popular Bavarian folk music, sing in chores, swing beer mugs, hold each other's hands and dance together with great enjoyment.
The Oktoberfest Ho Chi Minh City 2015 will be taken place at Windsor Plaza Hotel, Jade Ballroom on
October 8 to 17 at 18:00 to 24:00, aiming to celebrate its 23rd anniversary and mark the 10th year in a row that the GBA Vietnam has teamed up again with the Windsor Plaza Hotel Ho Chi Minh City to host this spectacular event.
The organizers are forecast to receive a number of visitors of over 2,000 per day.
In Ha Noi, the event will take place from October 22 to 24 at JW Marriott Hanoi Hotel, Festzelt. On this occasion, the GBA Vietnam will hold the event for the 6th consecutive year, for the second time in close partnership with the JW Marriott Hanoi Hotel.