Archaeologists from the Quang Ngai Province Museum have found the remnants of a walled village inhabited by Vietnamese people 400 to 600 years ago.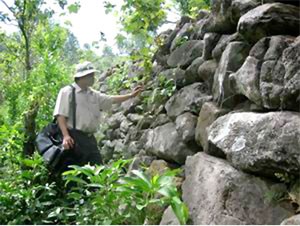 The wall is made up by carefully cut stones 

The village, named Thien Xuan after the hamlet where it is located, lies at the foot of Nua Mountain in Nghia Hanh District.

Traces of 40 houses are visible within the wall, which is one meter thick and varies in height from 2.5 to 3 meters. The scientists were surprised to find an absence of mortar between the carefully cut stones that make up the wall.

Outside the stone fortress there are still closely planted clumps of thorny bamboo, probably to keep wild beasts at bay.

Water was channeled to the village in little streams above overlapping stones, which would have prevented erosion and purified the water.

The museum's specialists have also excavated a wharf and found various kinds of lime-pots and an intact animal skeleton underneath layers of ceramic.

Traces of a temple have been detected towards the south of the village. Mr. Doan Ngoc Khoi of the Quang Ngai Museum says the temple was probably used to worship the mountain god, a common custom in the central mountains hundreds of years ago.

Mr. Khoi says the search for more artifacts is continuing, partly to help give an exact age for the village.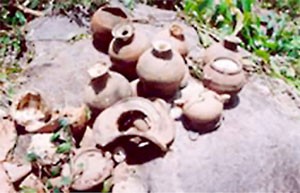 Ceramic pots are discovered after excavation
For now the archeologists can say that it is 400 to 600 years old and was inhabited for a while by Vietnamese people, who settled there after fleeing from the Champa invaders from the west.

Thien Xuan is the second such village found in Viet Nam, the first being the 500-year-old Phuoc Tich in Thua Thien-Hue province.

Researchers from the Viet Nam-based Ecole Francaise d'Extrême-Orient led by Mr. Andrew Hardy have visited Thien Xuan since the discovery and appreciated its historical significance.

Mr. Hardy says it would be helpful if Vietnamese archaeologists did more research into ancient villages in the central region.

Besides the digging, mapping and such, Quang Ngai Museum is working with the district authorities to get Thien Xuan officially recognized for its historical value.