The Ministry of Culture, Sports and Tourism has announced it shall return the façade of Ha Noi's Opera House to its original colour.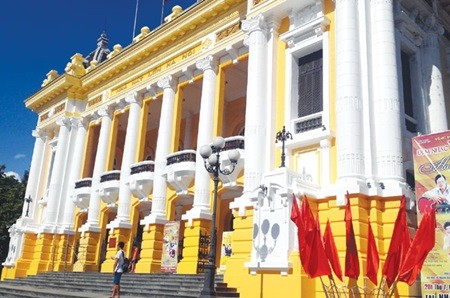 Returning to normal: The Ha Noi Opera House will get its original paint colour back. — Doan Tung
A press conference was held after members of the public and architects raised concerns over the new shade of yellow the Opera House was recently painted.
"The Ha Noi Opera House shall be repainted the same colour approved for the last major restoration project in 1996," said ministry spokesman Phan Dinh Tan.
The Opera House is a national cultural heritage under the ministry's management.
"We are carrying out regular maintenance work that will be completed in a month," he said.
Relevant government establishments made their presence felt at the press conference, including representatives from the Department of Cutural Heritage, the Department of Fine Arts and Photography and the Institute for Cultural Heritage Restoration.
In preparation for the upcoming 70th anniversary of the August Revolution and the 70th National Independence Day, the Opera House and the August Revolution Square are getting ready for the big occasion.
"The Opera House is an elegant architectural icon. The original colour must be restored," said Hoang Dao Kinh, the chief architect on the last major restoration project from 1994-1997.