Various art performances will be presented at the Hanoi Opera House this month as the Culture Ministry has decided to hold regular drama, chamber music and traditional opera shows.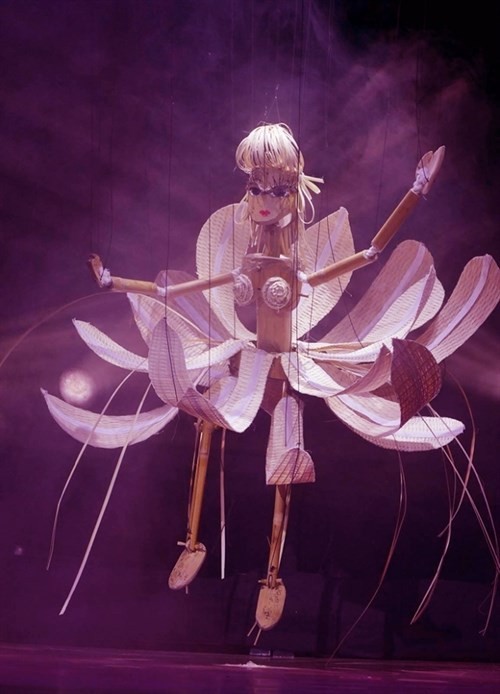 The string puppet performance Vu Dieu Hoa Quynh (Dances of the Night Queen) by the Viet Nam Puppetry Theatre won the gold medal at the International Puppetry Festival held last year in Hanoi(Source: vcmedia.com)
"It's a chance to provide audiences with high-quality performances in the historic Opera House," said Nguyen Dang Chuong, Head of the Department of Performing Arts.
The move is also expected to help artists express their talent and introduce their work.
"We expect that the Hanoi Opera House right in downtown Hanoi will be visited by more visitors and audiences. It's a rendevouzs for art lovers and helps promote Vietnamese culture to international visitors," said Chuong.
Dubbed a miniature of the Opera Garnier in Paris, the Hanoi Opera House was built in 1911. It is the most opulent building in the capital, and houses major events, meetings, and high-class performances.
Although it is touted as a temple of Vietnamese art, the Hanoi Opera House used to be a venue for miscellaneous, non-artistic shows, get-togethers, and celebrations for organisations and businesses.
Top-notch performances, including traditional shows as cheo (classical opera), tuong (classical drama), and cai luong (reformed theatre) rarely took place there. The Opera House was turned into an "event house" rather than a place for art lovers.
Starting this month, the Vietnam Symphony Orchestra, Vietnam Drama Theatre, Tuoi Tre (Youth) Theatre and Vietnam Cheo (Traditional Opera) Theatre will perform at the Opera House.
A special concert from the Vietnam National Symphony Orchestra will start the series on August 30. It will feature Aria Largo al factotum by G Rossini, Variations on a Rococo Theme Op.33 by P I Tchaikovsky and Symphony No.5 C minor, Op.67 by Ludwig van Beethoven.
Until the end of this year, various art forms will be presented including the string puppet performance Dances of the Night Queen by the Vietnam Puppetry Theatre, Hamlet by the Drama Theatre and the Nutcracker by the Vietnam Opera and Ballet Theatre.
The schedule of the shows can be seen on hanoioperahouse.org.vn.