Over 100 varieties of orchids grown by Taiwanese floriculturist Zhou Yu Chi are on show at the Spring Flower Festival at Ho Chi Minh City's Tao Dan Park.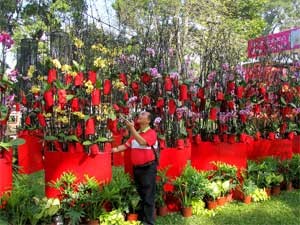 The predominantly red color of the Taiwan Garden at the Spring Flower Festival in HCMC. Red is considered lucky in East and Southeast Asia (Photo: SGGP)
The Taiwan Floriculture Development Association and Taiwan Trade Association delivered more than 3,000 orchid plants and hundreds of other decorative plants to the festival.  
Zhòu, considered one of the Asia's leading masters in flower arrangement, has set up an orchid garden all in red. 
But the festival itself is awash in white, pink violet, pink, yellow flowers that are covered in dazzling dots, stripes, and other patterns.  
Tran Truong Khai, vice GM of Fosaco Co. Ltd., a partner in setting up the Taiwan Garden, said the most spectacular species of orchid at the show is the great mandara, belonging to the genus Phalaenopsis.  
It is huge with each petal around 16 centimeters across. 
Almost everything about this flower is different from others, even within the same family: While others begin to flower after around a year, the great mandara often blooms only after three years.  
Its petals are thick and roots strong. Its flowers last an amazing 100 days if they are watered just once a week.  
It fetches 10 times the price of other species.   
The Taiwan Garden also has some other rare and valuable plants like the bromeliad, 'phu quy' (tree of property), and andenium, all in a shade of red matching the Vietnamese national flag. 
Mr. Khai said: "Every plant we bring to the festival has a color and name that are significant. We expect every Vietnamese visitor to not only enjoy seeing the flowers but also leave believing they would bring them luck and happiness in the New Year." 
The festival, which opened on January 20, will go on until the 31st.
Related article:

Japanese Garden brings inner peace