Miss Viet Nam 2008 Tran Thi Thuy Dung won't be stripped of her title as she didn't violate the regulations of the organization board of the pageant, Duong Xuan Nam, chief organizer of the contest, has said.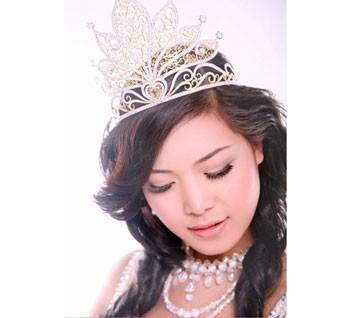 Miss Viet Nam 2008 Tran Thi Thuy Dung
He has provided the explanation in a report submitted to the Ministry of Culture, Sport and Tourism.

Dung dropped out of Quang Trung High School during the first semester of her senior year,
according to the Department of Education and Training of the Da Nang City. The headmaster of the school confirmed that she had quit school before graduating.

The Miss Viet Nam pageant was also not at fault. In the documents she submitted, Thuy Dung stated that her learning was at a high school level, Nam said. Since she did not claim to have graduated, she did not cheat the organizers, he added.
But nobody in the organization board has been able to explain where Dung had got the dubious diploma that was submitted to the pageant?
Vu Xuan Thanh, chief inspector of the ministry, says the organizers of the pageant should talk to Dung and make her understand the situation at present.

The most reasonable action is for her to relinquish the crown, he says.

The Tien Phong magazine, organizer of the Miss Viet Nam beauty pageant, could lose its right to host the next contest. The matter is still under consideration by the Ministry of Culture, Sports and Tourism.

The ministry's Performing Arts Department has ordered Elite Viet Nam, not to select Miss Viet Nam 2008 as a candidate for the Miss World title to be contested in South Africa.

Related articles:
Top Three Finalists in Miss Viet Nam Not Eligible for Miss World
Thuy Dung may not be in Miss World Contest