The first Ornamental Creature Festival themed "Aquavina 2006" opened at Tao Dan Cultural Park, in Ho Chi Minh City on September 1. "This opportunity calls for investment in two projects of ornamental fish and flower breeding in Ho Chi Minh City. Local associations, businessmen, gardeners nationwide can exchange experiences and present their products to foreign partners," Mr. Vo Van Cuong, chairman of the Ho Chi Minh City Ornamental Creature Association, said.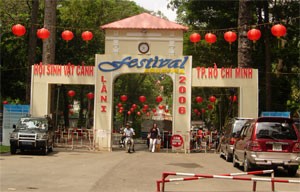 The ornamental creature festival 2006(Photo:KK)
During the festival, there were many activities including exhibitions of rare ornamental tree, contests of dogs, including pet dog, police dog and racing dog, of pet fish, bonsai, ancient ornamental trees and orchids.

The festival was attended by Mr. Nguyen Viet Thang, Deputy Minister of Fisheries, the Central Ornamental Creature Association, organizations from 31 cities and provinces nationwide, pet dog clubs.

Ha Quang cooperation has presented its model of ornamental fish breeding villages in Cu Chi, and Thien Van Sai Gon Co., Ltd brought to the exhibition many kinds of stone.

Singapore, Indonesia, Thailand, Malaysia, Australia, German and the Territory of Taiwan have sent their pet fishes for the contest and introduced their Ornamental Creature services.

The festival will last to September 4 in celebration of Viet Nam's Independence Day (September 2).