An art exhibition on the beach, featuring works by over 30 artists, will open August 23 at Ho Tram Beach Resort & Spa, southeastern province of Ba Ria-Vung Tau.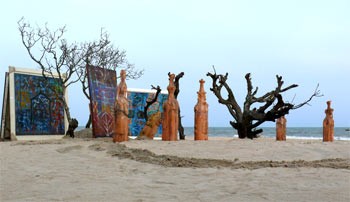 A corner of the exhibition on the beach (Photo: Courtesy of Ho Tram Beach Resort & Spa)
Most of the artists are from the Fine Art Association of Ho Chi Minh City. Three of them are French artists.
The sand, the sea and sun will provide a magnificent atmosphere for such a joyful event. The works will be displayed on the 200 meter long beach, with natural settings and materials.
Besides the idea to debut an art exhibition on the beach, the display, "Bien Bo" (The Beach), also features a concept that works are grouped into paintings, ceramics, sculptures and specific art installations that are specially designed for the occasion.
The art exhibition is expected to give opportunities for wonderment to visitors, very much like a previous outdoor exhibition in June.
The artists promise to set up a unique art environment where visitors will have different feelings about the art than they would have in a closed environment.
The organizers believe the exhibit will bring art closer to people, especially to those who may not go to exhibits very often.