An exhibition that draws the participation of many well-known sculptors in HCMC was opened to the public on the 15th December 2007 and will run until the 15th January 2008 at Bach Tung Diep Park.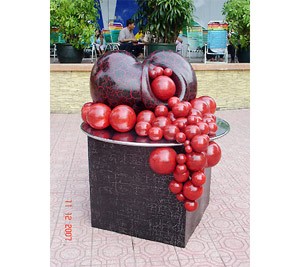 "Compatriots" by Hoang Minh Tuong
Nine well-known sculptors have on display 25 works of art made of various materials such as stone, iron, stainless steel, aluminum, and hybrid. The works are reflections of the artists' thoughts and feelings about the people and their daily lives in HCMC.
This is the first time an exhibition has been held outdoors, alleviating the usual limitations of time and space as well as avoiding straying too far from people's daily lives, which is what the whole concept of this event is based on.

With the assistance of lighting, the exhibition aims to give the visitors a fresh, relaxing and open view thereby balancing the spiritual lives of the citizens.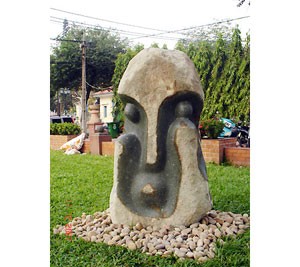 Ngo Liem's "Awakening stone"
It can be said that this is a new and special exhibition, not only because of the abundance in the materials used, but also other useful activities the exhibition combines with. There will be friendly meetings of the City's Architect Club, the Businessmen Club, the Consulates Clubs, the Vintage Motorbike Club, a Flamenco music concert and a Christmas celebration to benefit orphans and those with disabilities.
Hoang Minh Tuong's "Compatriots", Phan Phuong's "The Musical Instrument" and "Awakening Stone" of Ngo Liem will be auctioned for charity on this occasion.
The exhibition is organized by HCMC's Fine Art Association, District 1's Public Project Co., Dat Lanh Co. in cooperation with Hoa Binh Construction & Real Estate Joint-stock Co., and Thu Duc Developing House Joint-stock Co.