Overseas Vietnamese Doctor and currently Professor of Anthropology and Chair of the Department of Canada's University of Toronto Luong Van Hy, was awarded the honorary title "Professor Emeritus" by the Viet Nam National University of Ho Chi Minh City for his outstanding contribution in development of Vietnamese education.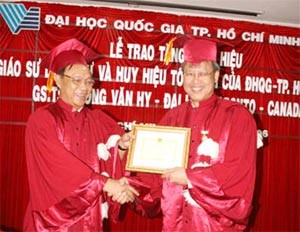 Professor Luong Van Hy (R) receives the certificate of merit  from Director of Viet Nam National University of Ho Chi Minh City Nguyen Tan Phat
Professor Luong Van Hy has regularly returned home for his research trips from the North to the South since 1987.
He has also carried out scientific research works of anthropology, sociology and linguistics and contributed to the country's education.
The professor's current projects focus on discourse, gender, political economy, and sociocultural transformation in rural and urbanizing communities in the northern and southern parts of Viet Nam.
He has been named in Canadian Who's Who and Who's Who in the Twenty-First Century, published by the International Biographical Centre of Cambridge, England.