Overseas Vietnamese scholar Nguyen Tien Van yesterday donated more than 18,000 books to the Ho Chi Minh City Institute for Sociology Research.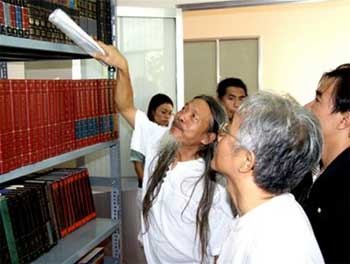 Researcher Nguyen Tien Van (long hair) at the donating ceremony on September 22. (Photo:TTO)
The books in English, Chinese, French, German, Vietnamese and other languages include 591 dictionaries, 210 magazines and over 17,000 research books in social sciences and humanities. Of them are valuable and rare books on Western philosophy, Confucianism and many other topics.
The researcher said that the books had been collected over many decades when he lived in Canada. He hopes they will help Vietnamese researchers in various fields.
The classification of these books by titles is expected to be completed and made available to researchers and students in 2009.