Popular Overseas Vietnamese singer Y Lan pefromed in a charity show in the city yesterday after a three-year hiatus.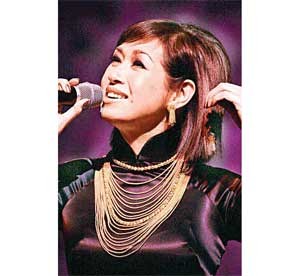 Overseas Vietnamese singer Y Lan
The show celebrated the 20th anniversary of the US-based East Meets West Foundation, a humanitarian NGO active in Viet Nam.
Earlier, the singer visited the Cardiovascular Center of the Ho Chi Minh City Children's Hospital No.1 and offered gifts to children.
After living in the US for 18 years, Y Lan returned home for the first time in 1998. Since then she has come back home every year for charity work.
After a three-year break for the treatment of breast cancer from 2005 to date, she accepted the invitation to participate in the fund-raising concert organized by East Meets West.
The foundation is supporting the Operation Healthy Heart program which provides corrective surgery for children with congenital heart defects.
The singer told the press that she has established the Y Lan Sweet Dreams Foundation to promote women's health issues in the Vietnamese-American community.
Born in 1958 in Sai Gon (former name of Ho Chi Minh City), Y Lan is a daughter of famous veteran singer Thai Thanh. Over the last two decades she has released nearly 60 albums.
She will visit Da Nang tomorrow before leaving for the US.