A week of culture and tourism in the northern province of Tuyen Quang is to open from December 21 to 31 with yet another beauty pageant, Miss Tourism Tuyen Quang 2007 to take place on December 16.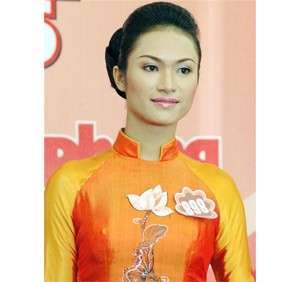 Miss Tuyen Quang 2006, Vi Thi Lan
Tuyen Quang is already nationally famous for its contributions to the body feminine haute esthétique. Famed Tuyenquangese beauties include Miss Tuyen Quang 2006, Vi Thi Lan, the second-runner up of Miss Tuyen Quang 2006 Trieu Nguyen Thu Trang who represented Viet Nam to take part in the Miss Tourism Queen International 2007 pageant in China, and many more.

National rumors have it the timeless allure of Tuyen Quang's ladies derives from their descent from the mandarins and imperial concubines of Viet Nam's Mac dynasty, who lived in Tuyen Quang.

But Viet Nam's feminine aesthetics pundits also put the beauty of the women of Tuyen Quang down to their varied lifestyles, cultural diversity, mixed marriages and both fresh and wild weather.

The pageant's finalists are to appear on Vietnam Television (VTV) December 21, live from the Tuyen Quang town stadium.

The pageant is also to run in sync with a Tuyen Quang tourism and cultural promotion week themed "Tuyen Quang – Span of Integration".

Provincial leaders reportedly see the week and the pageant as opportunities to work with the nation's other cities and provinces, and other countries, too, to enhance economic, cultural and travel-industry ties, as well as prepare for greater tourism collaboration with China's Yunnan province.
During the first nine months of the year, Tuyen Quang welcomed more than 300,000 local and foreign tourists, according to the province's Department of Trade and Tourism.