Ninety nine paintings of the century-old Long Bien bridge in Hanoi will be auctioned on September 28 to raise money for the Long Bien Bridge Memory Festival on October 10-11 and support Agent Orange victims.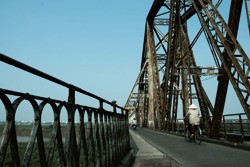 Long Bien Bridge
The festival will take place on the 1,682-meter bridge, and will feature an exhibition of photos of the steel bridge, traditional music and costume performances, and release of lanterns in the river at night.
It is being held to mark the 55th anniversary of the capital's liberation and the 1000th anniversary of Thang Long – Hanoi.
Long Bien was the first bridge to be built across the Red River in Hanoi. It was designed by famed French architect Gustave Eiffel and constructed by a French firm between 1899 and 1902.