The painting was auctioned at the starting price from EUR 50,000-80,000. It has smashed the record for the most expensive painting by Nguyen Nam Son sold at an international auction so far.

Paintings sold at the auction also included works by Tran Van Can, Nguyen Tien Chung, Vu Cao Dam, Le Pho, Mai Trung Thu, Alex Aymé, Tran Van Tho and French painters who lived in Vietnam, Jean-Louis Paguenaud (1876-1952), Henri Mège (France, 1904-1984), Maurice Menardeau (1897-1977).
A painting titled Return from the Market (Retour du marché) by Tran Van Can was sold for EUR230,000 at the auction.
Tran Van Can (1910-1994) was one of the famous artists of the Vietnam contemporary fine arts, such as To Ngoc Van, Tran Van Can, Nguyen Sang, Nguyen Van Ty, Ta Thuc Binh, Tran Dinh Tho, Huynh Van Thuan and others. He worked as the headmaster for the Fine Arts College from 1954 to 1964 and was the general secretary of the Vietnamese Fine Arts Association between 1958 to 1983. In 1996 he was posthumously awarded the Ho Chi Minh Award, the most noble distinction for Vietnamese artists. His best known work, Em Thuy (Little sister Thuy) that was recognized as the national treasure in 2013.
The painting, "Tonkinoise à l'éventail" by Nguyen Nam Son shows a young girl sitting on a divan with a paper fan in her right hand. The girl is crouching, with her left foot flat on the ground, and her right foot bent under. She is wearing a green traditional Vietnamese Ao Dai and white trousers. Her face is imbued with sweetness and a subtle, elegant beauty. Her long hair is wound around her head like a crown.

The picture depicts a peaceful atmosphere that highlights the model's tender beauty. Her lips seem on the point of smiling, and she seems blissfully happy.
The artwork on silk, measuring 43 x 61.5 cm, was painted in 1935-1936, according to the artist' family. Silk was one of Nguyen Nam Son's favorite materials.
The painting was bought by French battalion commander Mallet, who was posted to Hanoi between 1936 and 1938. He has kept it at his home in France.
Painter Nguyen Nam Son whose real name is Nguyen Van Tho was born in Hanoi. He was one of the first Vietnamese contemporary artists. He was a co-founder of the Indochine Fine Arts College with French professor Victor Tardieu. Nam Son worked as a lecturer for the Indochina Fine Arts College since its opening to 1945, closing the 20 years of operation of the college.
In March, another his painting titled "Peasants of Tonkin" was sold at EUR 205,000 at an auction which was also held by the Aguttes company in Paris.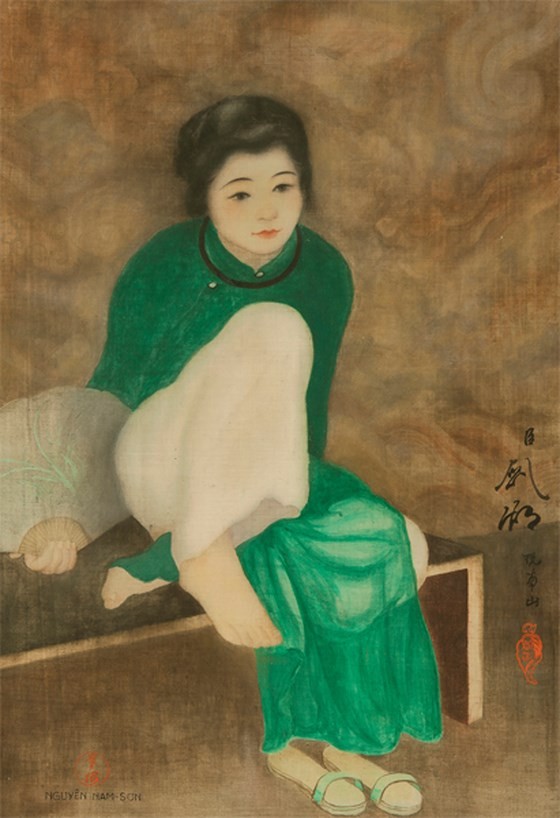 The silk painting titled "Tonkinoise à l'éventail" (Tonkin girl with a fan) by Nguyen Nam Son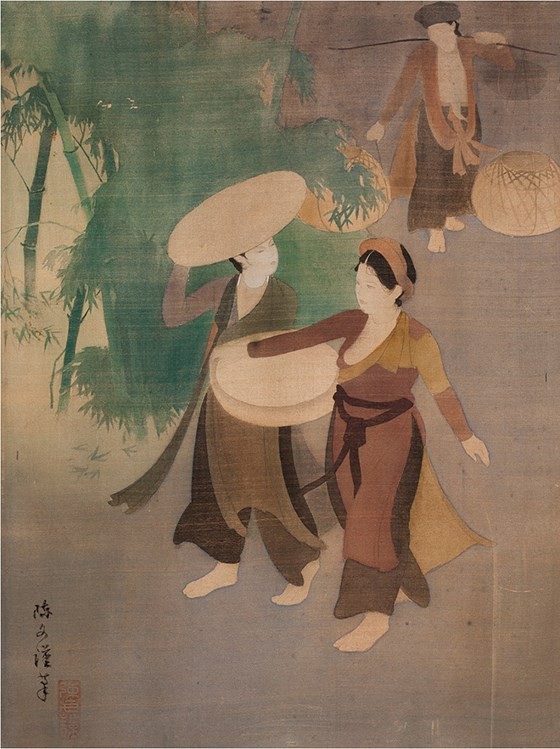 The painting titled Return from the Market (Retour du marché) by Tran Van Can