A painting exhibition featuring portraits of Vietnamese Heroic Mothers by painter Dang Ai Viet is being held in Hanoi to mark the 65th anniversary of 'War Invalids and Martyrs Day' (July 27).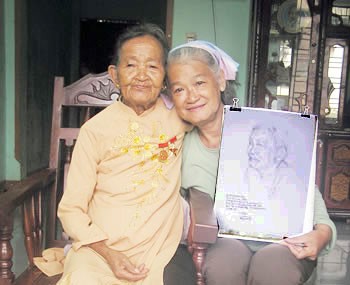 Painter Dang Ai Viet (R) and Vietnamese Heroic Mother, Thai Thi Tai, in the highland city of Buon Ma Thuot (Photo: sggp)
The exhibition displays 300 artworks depicting the different faces of Heroic Mothers in cities and provinces, whom the artist personally met during her cross-country trip.

The 62-year-old artist, travelled from Ho Chi Minh City to various parts of the country for three years from February 2010 to June 2012, to paint 863 portraits of Heroic Mothers.

Visitors will have a chance to see the painter's skills of images created during her trans-country journey.

After the exhibition, painter Dang Ai Viet will donate these paintings to the Vietnam Women's Union to keep at the Vietnam Women's Museum in Hanoi.