One of the wealthiest villages in the Central Highlands, Ako D'hong Village preserves the culture of the Ede people very well in spite of urbanization.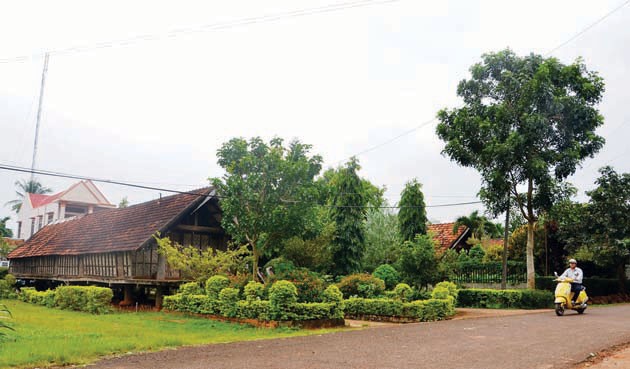 A longhouse in Ako D'hong Village. (Photo: SGGP)
The village, located in Buon Ma Thuot City, still possesses traditional longhouses, wine, gongs and jars. Longhouses represent ancestor and origin for the Ede people. This makes it very important to preserve the structures.
In a society where traditional brocade weaving is disappearing, most women in the village still weave products such as handbags, dresses, scarves and shawls. Selling these products to tourists has become the main source of income for many families.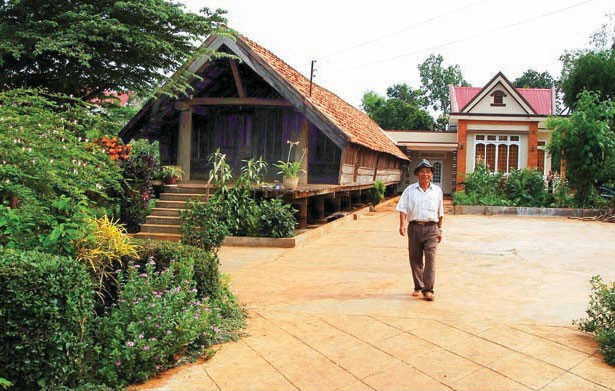 Most households in Ako D'hong Village live in a modern villa behind their traditional longhouse. (Photo: SGGP)
'This industry not only feeds my family but also help us make a fortune,' said Mi Pi, a villager. Along with brocade weaving, villagers also knit bamboo papooses to sell.
Traditional wine made by villager Ama Phin is a special gift for local and foreign visitors.
'I learned to make wine since I was a child. I will pass my recipe to my children so they can continue to maintain the cultural characteristics and spirit of Ede people,' said Ama Phin.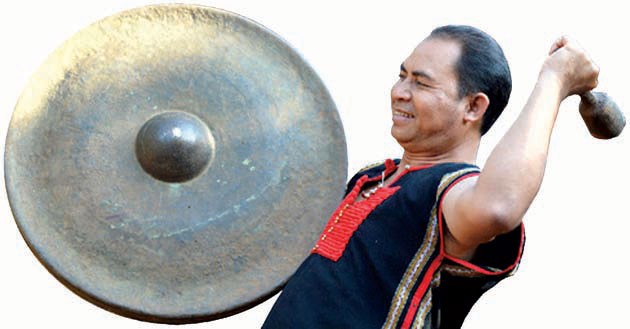 A villager plays gong. (Photo: SGGP)
Villager Ama Loan is proud of having taught many generations in the village how to play gongs.  He collects, preserves, and builds new instruments for the village.
Most households in the village live in a modern villa behind their traditional longhouse and some even own a car.
The village is full of hard-working people and poverty is rare, said Head of Village Mr. Y Thach.  Along with providing services for tourists, many families also own land for farming coffee and vegetables.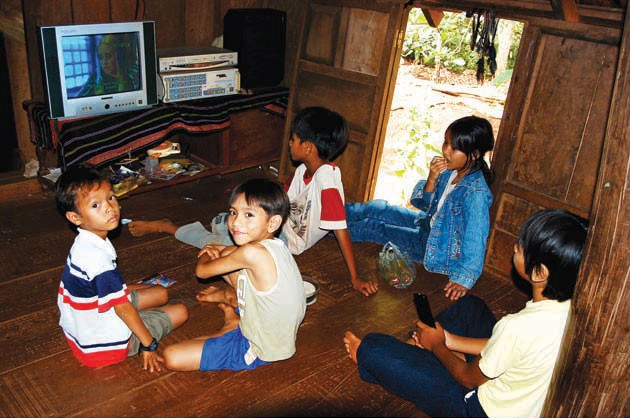 Children in Ako D'hong Village watch TV on Sunday morning while their parents work at their farms. (Photo: SGGP)
All of the households in the village follow traditional culture. The village has a high-school graduation rate of 90 percent. Children who leave to study at universities usually return home to contribute community growth. Many officials of Dak Lak Province come from Ako D'hong Village.
Ako D'hong Village was founded by village patriarch Ama Hrin more than half century ago. Ama Hrin passed away last year. The wealth of the village was due to his leadership.
Ama Hrin had charisma and so villagers always listened to him, said Mr. Y Thach.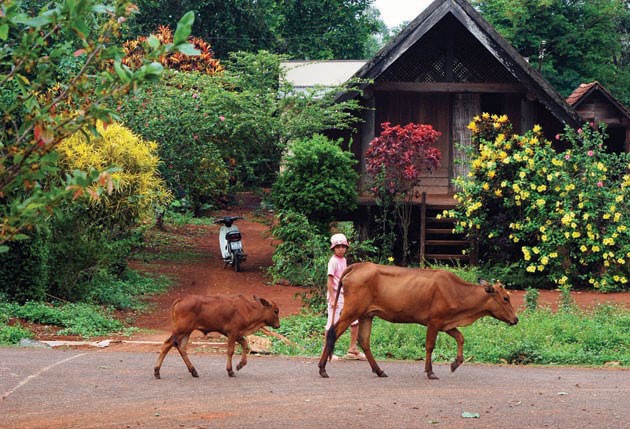 Peaceful Ako D'hong Village. (Photo: SGGP)