Millions of local residents and visitors enjoyed a fun and exciting New Year's Eve in Ho Chi Minh City on December 31.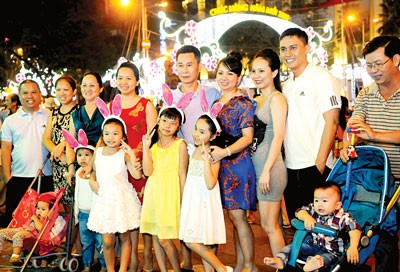 People enjoy New Year on Nguyen Hue Street in District 1.

People flocked to entertainment centers to a shopping malls leading on main streets such as Pham Hung in District 8, Tran Hung Dao, Nguyen Trai and Nguyen Tri Phuong in District 5, Quang Trung in Go Vap District, Thanh Thai in District 10, Le Loi and Nguyen Hue in District 1.
A series of special art performances celebrating New Year 2014 will be taken place throughout the city.
A festival is being run at the 23/9 Park in District 1 from December 27 to January 1.
The event will feature a series of cultural activities, such as exhibitions on the achievements of the City's socio-economic development, the agricultural industry and new rural development program; display of construction plan by 2025; and art performances and a food fair.
In addition, a 'Street Lighting' program featuring thousands of colorful lights in the City Center is on from December 19 to January 2.
High-range firework shows were held at the front end of the Saigon River Tunnel in District 2 and Dam Sen Park in District 11 at midnight of New Year's Eve.
The City will also organize art performances along Ben Nghe Canal in Cau Mong Area in District 1 and Gia Dinh Park in Go Vap District on December 31 and January 1
A masquerade parade of around 100 local and international artists dressed up in colorful costumes attracted a large number of people at the Ban Nguyet (Semicircle) Lake area in District 7's South Saigon.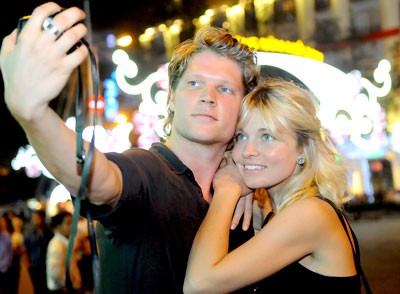 Foreign visitors take photographs on Le Loi Street in District 1.
Tens of thousands of residents gathered at Cach Mang Thang Tam (August Revolution) Square to participate in the Countdown Festival welcoming the New Year 2014 in Hanoi. The event included a music show featuring singers namely My Linh, Hong Nhung, Hoang Ton and the orchestra of the Vietnam National Academy of Music.

In addition, more than 30 leading singers will take part in the 'Hello 2014-VTV New Year Concert' to be organized by Vietnam Television in Hanoi on January 1.
Artists including Thanh Lam, Hong Nhung, My Tam, Ho Quynh Huong, Tung Duong, Ho Ngoc Ha and Quang Dung will bring popular Vietnamese and international songs to music lovers.
The annual concert will use spectacular visual effects used in motion pictures that will be implemented by talented staff members, said Director Do Thanh Hai.
The show will be broadcast live on VTV1 Channel.