Tens of thousands of visitors have flocked to Hue for the Festival of the Temple of Princess Huyen Tran that opened February 3 at the Huyen Tran Cultural Center atop Ngu Phong mountain.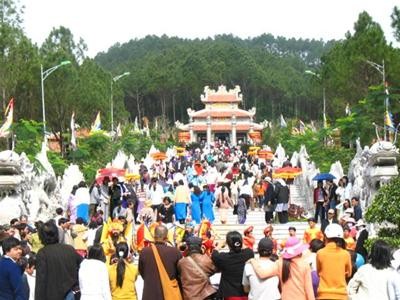 People arriving for the incense-offering ceremony at the Temple of King Tran Nhan Tong, father of Princess Huyen Tran, in Hue on Feb 3 (Photo: Tien Phong)
The festival is organized annually on the 9th day of the first lunar month to pay homage to Princess Huyen Tran of the Tran Dynasty for her contributions to building the country. 
Some 1,000 artists and artisans from central Thua Thien-Hue Province and neighboring provinces are taking part.
The main cultural activities include an incense-offering ceremony at the temples of Princess Huyen Tran and King Tran Nhan Tong, a bell-ringing ceremony, traditional art and music shows, martial arts performances, human chess, a floral arrangement contest, and others.
The same day in the central city of Da Nang, the Tuy Loan Village's Communal House Festival took place in Hoa Vang District, attracting thousands of people.
This festival includes traditional arts and music performances, boat races, tug of war, rice-pounding, plowing, tree-climbing, picking bananas, and other exciting traditional contests.