The Party Committee, People's Council and People's Committee of Hung Yen province held a solemn ceremony to receive the certificate to rank special national relic for Pho Hien (Hien Street) and open Pho Hien Cultural Festival.
The ceremony was attended by State President Truong Tan Sang, leaders of Party, State.

Vietnamese people have known Hung Yen city as "the Capital ranks first, Pho Hien ranks second". Currently, the city has preserved a number of antique items and exhibits with high cultural value such as the imperial tombstones, parallel sentences, stories of Gods and others which are considered as accurate historical information source.

Pho Hien relic complex is the famous site in Hung Yen, highlighting with Le Dynasty's typical architecture such as Chuong (Bell) Pagoda, Mau Temple, Xich Dang Temple of Literature.

With historic, architectural and art value, Prime Minister signed Decision No 2408/QĐ-TTg on December 31, 2014 to recognize Pho Hien Relic as special national relic.
On the same day, representative of Vietnam UNESCO in the southern region granted a certificate and medal to SC VivoCity Commercial Center's the largest Hung Kings picture, which collected from 258 rectangle pieces.
The picture is being on display at SC VivoCity's hall from April 19- 25. The organization board said it aims to express Vietnamese people's gratitude to the Hung Kings and it is part of activities to commemorate the Hung Kings' Death Anniversary.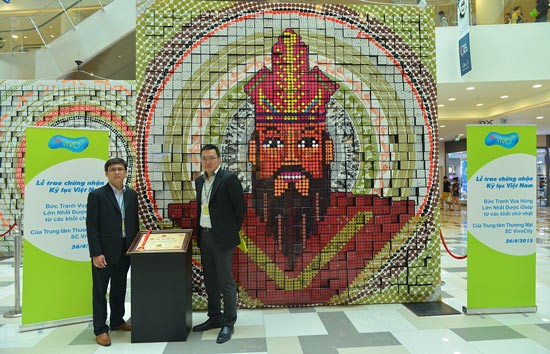 The largest Hung Kings picture which is collected from 258 rectangle pieces, is on display at SC Vivo Center. (Photo:SGGP)