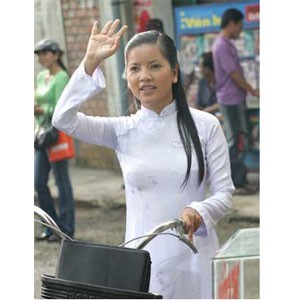 Actress Ngoc Trinh plays the part of Vy in Mui Ngo Gai
Pho, or beef noodle soup, which is the signature dish of Viet Nam is going Hollywood…well, sort of.
A Korean-Vietnamese TV series entitled Mui Ngo Gai, which translates to Scent of the Sage Leaves, is scheduled to air this Sunday and pho will be making a guest appearance. Mui Ngo Gai is listed for broadcast from Sunday to Tuesday on HTV9 every week.
Mui Ngo Gai is scheduled to run for 100 episodes and depicts the story of a sweet and innocent girl named Vy living in the countryside.
Vy, who is played by the actress Ngoc Trinh, initially works as a waitress in a pho shop called "Pho Hoang". She then claws her way through the rank and file to become a famous pho saleswoman and helps "Pho Hoang" grow into a multinational chain.
The series should make strides in popularizing this traditional Vietnamese dish in real life as well as in TV land, as the show will reach audiences in other Asian nations where it is scheduled to be broadcast.
Mui Ngo Gai has been produced by the Vietfamily Company of Viet Nam, and Korea's CJ Media. Kim Se Hyuk, a representative of CJ Media, commented about weaving pho into the plotline. "Similar with Korean series, this Korea-Viet Nam TV series will honor the national character of the country it is based in."
Well-known Korean scriptwriter Kim My Kyong traveled throughout Viet Nam to study the culture and learn more about pho, including spending time in and around Ho Chi Minh City where he said he enjoyed many delicious bowls of pho.
In the style of Korean TV series, the producers will carry out opinion polls with the audience after the first 72 episodes asking them to rate aspects of the show such as character development, plotlines, and its overall direction to gain a better understand of what the audience preferences are. 

After studying the poll returns, the producers will make script adjustments to tailor the remaining 28 episodes to the interests of the audience.