A photo exhibition titled "Following the tradition of Uncle Ho's soldiers" is running at the Ho Chi Minh City Youth Cultural House to celebrate the 65th anniversary of the establishment of the Vietnam People's Army (December 22).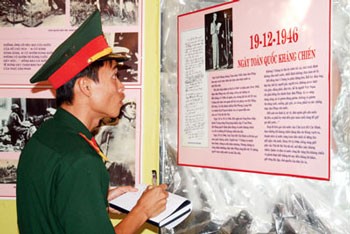 A soldier enjoys photos in the display titled "Following the tradition of Uncle's soldiers" at the HCM City Youth Cultural House.  (Photo:Sggp)
The display, which presents more than 200 pictures featuring Ho Chi Minh and the armed forces, will run until December 25.
Depicted in the photos are the historic Dien Bien Phu victory of 1954; the Great Victory of Spring 1975; soldiers from the August revolution of 1945 to the Ho Chi Minh Campaign from December 1974-1975; activities of the 9th Division; the Gia Dinh Regiment under the HCM City Military Headquarters and the 31st Military Police Battalion; and activities of the city's youth around border areas and islands.
In addition, an art exhibition commemorating the armed forces and revolutionary war opened December 12 at the Vietnam History Museum in Hanoi.
More than 160 works including 110 paintings, 17 graphic works and 34 sculptures were selected for the exhibit from 580 submissions by 400 artists in the country. Chosen pieces were selected through a national fine arts competition held by the Ministry of Defense from 2005 to 2009.
Another fine arts and press-photo exhibition of soldiers during peacetime is being held at the Exhibition House in Hanoi and will run until December 14; while a large-scale display featuring photos and soldiers' artifacts will be held at the August 20 Square in Thai Nguyen City on December 15.