Photographer Vu Duc Huy of Hanoi won the first prize at a photo contest to celebrate 'International Year of Forests 2011' for the picture titled "Manoeuvring Forest Fire Prevention".
Two second prizes went to "Forest in the cave" by Ngo Doc Lap of Quang Binh Province and "Spring is time for tree planting" by Pham Ngoc Bang from Lao Cai Province.
Three third prizes went to "Feeding" by Huynh Trong Lan from Binh Thuan Province, "Recovering the green mangrove swamp forest" by Nguyen Thanh Dung and "U Minh Ha mangrove swamp forest" by Dang Quang Minh from Ca Mau Province.
The contest was launched five months ago, for which the organizers received nearly 2,000 pictures from 256 photographers throughout the country.
The images depicted the beauty of forests, diversification of flora and fauna, love of people for forests and the natural environment and their forest protection activities.
The contest is being co-organized by the General Directorate of Forestry, Vietnam National Museum of Nature, Vietnam Forest Science Technology Association and the Vietnam Association of Photographic Artists.
The awards ceremony and the exhibition will be held in Hanoi on November 27.
Photo themed "Manoeuvring Forest Fire Prevention" by Vu Duc Huy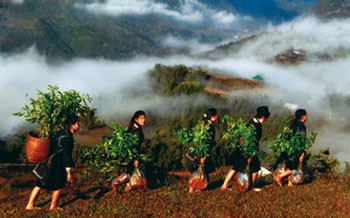 Picture titled "Spring is time for tree planting" by Pham Ngoc Bang