The Institute for Studies of Society, Economy and Environment (ISEE) is holding an exhibition of photographs taken by ethnic minority groups from all across the country in Lam Son Park in District 1 of Ho Chi Minh City.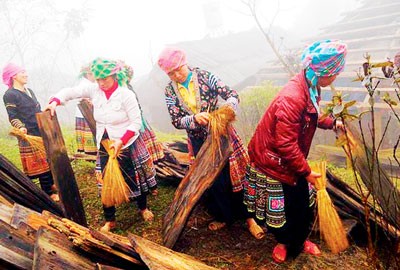 Photo by Mua Thi Cha shows ethnic minority women cleaning their moss-covered wooden slate roof
The exhibition will open at 4pm today, November 11, in Lam Son Park in District 1 with a display of 150 photographs, selected from more than 70,000 entries from across the country.
The photographs have all been taken by the ethnic minority people of Vietnam, relating to the life and people in their communities.
The photo exhibits are creative artistic testimonials to the close-knit vibrant life of ethnic minority communities, covering their people and all aspects of their daily life.
The exhibition will be on until November 20.