A photo exhibition titled 'Vietnam-UK Relations-Past to Future' opened at the Exhibition Centre of Fine Arts and Photography in Hanoi on September 30.
The exhibition introduces to viewers about 100 photos presenting the close ties between Vietnam and the UK in fields of politics, economy, culture, education and training, and science and technology.
The photography event co-organized by the British Embassy in Hanoi and the Vietnam News Agency aims to mark the 40th anniversary of Vietnam-UK diplomatic relations.
The display will run until October 6.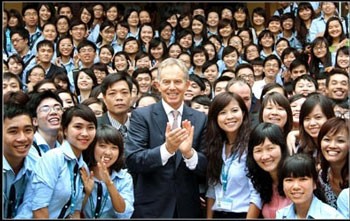 Former British Prime Minister Tony Blair meets students of Vietnam Institute for International Relations.