A photo exhibition on Da Lat has opened at Sammy Hotel in the highland city to mark the 115th anniversary of the founding of the resort town.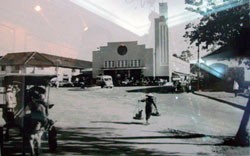 Da Lat Market in 1955.  (Photo: Dang Van Thong)
It features 60 pictures of landscapes, architectural styles and the daily activities of Da Lat residents in the early to middle 20th century taken by Tran Van Chau, Dang Van Thong, Le Phi and Frenchman Renaudin Esperance.
They show beautiful, old French villas set in pine-covered hills and surrounded by colorful flowers, interminable pine forests along misty mountains, ethnic villages on Xuan Huong lake, and French and Vietnamese people on quiet streets.
The images make beholders nostalgic about the romantic and pure beauty of the highland town, historian Duong Trung Quoc said, calling for conserving Da Lat as a national heritage.
The exhibition is organized by the Vung Tau International Tourist Joint Stock Company and the Vietnam Historical Association's Xua &Nay (Past and Present) magazine.