90 photos depicting 90 various disabled people who overcome their difficulties to integrate in the community are displaying in an exhibition titled "They've lived like that".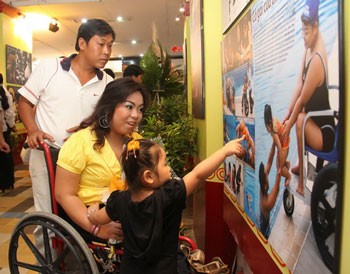 Swimmer Nguyen Thi Minh Ly and her husband and daughter see the photo of their family taken by Nguyen A. (Photo: TTO)
The photos describe a face radiant with smile of Vang Thi Su, a woman of the M'nong ethnic group was deaf and dump inborn, in her daily activities such as cattle herding, transplanting rice seeds and fabric weaving; farmer Nguyen Cuu Long with cerebral palsy of Lam Dong Province who hoes up the ground to plant orchid; old woman without legs Nguyen Thi Ai of the Mekong Delta province of An Giang who have been employed in picking coconut to earn for living.
The show is regarded as an attractive and moving photo story of unlucky people who are shining examples for young people.
Photographer Nguyen A spent more than two years for trips from the South to the North to take these pictures.
He also paid plane and train fares for about 60 characters in his photos to attend the exhibition.
"It is a wonderful photo collection. The characters are extraordinary people" said Ms. Hoai Phuong of the HCMC career direction club for disabled children.

The exhibition is being held at the HCM City Youth's Cultural House and runs to November 20.