A photo exhibition to mark the 82nd anniversary of the Communist Party of Vietnam (Feb 3, 1930) is being held at the Lam Son Park in District 1 of Ho Chi Minh City from January 17 till February 10.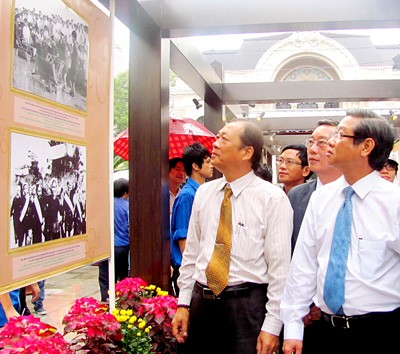 City leaders visit the photo exhibition that marks the 82nd anniversary of the Vietnamese Communist Party. (Photo: Sggp)
Le Hoang Quan, Chairman of the Ho Chi Minh City People's Committee; Hua Ngoc Thuan, municipal vice chairman; representatives of departments and organizations; and Youth Union members were present at the opening ceremony of the exhibition on January 17.
The exhibition featuring more than 200 photographs is divided into two displays titled "Communist Party of Vietnam-golden historical pages" and "Ho Chi Minh City-its potential and development".
In addition, art works of landscapes and key works of Ho Chi Minh City are on display along Dong Khoi Street and at Chi Lang Park in District 1.
The exhibition will run until February 10.