An exhibition marking the 60th anniversary of the Dien Bien Phu Victory opened in Vung Chua – Dao Yen in Quang Trach District, the central province of Quang Binh on May 4.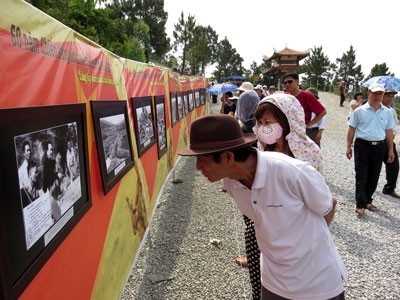 Visitors in the exhibition (Photo: Sggp)
The outdoor display titled "Dien Bien Phu – A Glorious Epic" is organized along the road to General Giap's grave by the Vietnam Association of Photographic Artists and Vietnam News Agency's Photo Center.
Sixty photos honor the glorious feats of arms in the Dien Bien Phu Victory under the leadership of the Communist Party of Vietnam, President Ho Chi Minh and General Vo Nguyen Giap.
The event gives viewers overview of the General's patriotic passion and dedication, particularly related to his comprehensive military, political, scientific and cultural talents.
The exhibition has attracted thousands of visitors and will run until May 14.