A photo exhibition themed 'Hanoi-City of Peace' and an awards ceremony for the 42nd Hanoi Art Photography Contest was held in the capital on October 9.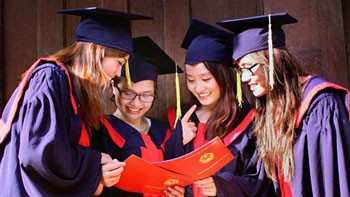 'Hanoi's first rank students' by Nguyen Van Tan

The event marked the 58th anniversary of Hanoi Liberation Day- October 10, 1954. Photographer Nguyen Van Tan won the first prize for his work called 'Hanoi's first rank students'. Two second prizes went to Dao Quang Minh's 'Gratefulness' and Vu Ngoc Quang's 'Star lights at night'.
Launched four months ago, the organizing board for the contest received more than 1,000 pictures by 188 photographers.
Another exhibition on 'Hanoi's Days and Nights in 1972' will be held at the French Cultural Center in Hanoi from October 11-November 9. The display will present images of Hanoi taken during the 1972 US B52 aerial bombardment of the City.

A reality TV show on disadvantaged students who have overcome difficulties to study will be broadcast on VTV2 and VTV3 from October 10.

There will be 104 shows every year with 104 scholarships given to poor students.