On November 22, Vietnam Heritage Magazine and the Cultural Heritage Association in Ho Chi Minh City will give prizes to the best photographs on Vietnam that are being exhibited at a photographic contest titled 'Vietnam Heritage Photo Awards 2012'.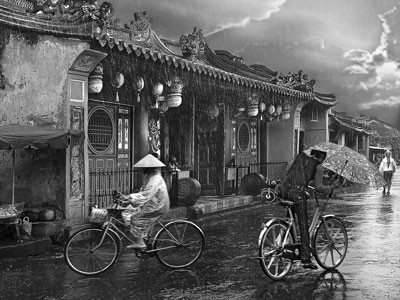 'Mua Tren Pho Co' (Rain in ancient town) by Tran Thi Tuyet Mai (Photo: SGGP)
The photographic exhibition has already travelled to the central city of Nha Trang, Phan Thiet City in the central province of Binh Thuan, Hoi An Town in Quang Nam Province, Hanoi, the northern province of Quang Ninh and the Mekong Delta city of Can Tho.
The exhibition is now in Ho Chi Minh City as part of the activities to mark the 8th Vietnam Cultural Heritage Day on November 23. Winners for the best photographs will be announced on November 22.
The contest was launched in June to select the best photographs depicting the country's natural beauty, traditional customs and the daily lives of people. It also called on people to support the country's cultural heritage and the need to protect and preserve it.
The best photographs were selected from 2,890 entries by 198 amateur and professional local and foreign photographers.
Some outstanding works are 'Khoanh khac Ha Long' (A Moment of Ha Long Bay) by Nguyen Phung Chi; and 'Chang chang con cat' (Scorching Sand Dune) by Nguyen Thanh Vuong.
In addition to photographs of the country's scenic beauty, some photos reflect different aspects of people's lives such as 'Tay Nguyen mau xam' (Grey Tay Nguyen Central Highlands) by photographer Na Son, showing deforestation in the country and 'Tan sat loai khi' (Massacre of the Monkey) by Le Hoai Phuong-- a cry for help to preserve nature and raise awareness for wildlife conservation.
Traditions and customs of various ethnic groups is also a topic attracting many photographers. Some outstanding photos displayed were 'Cho phien Can Cau' (Can Cau village fair) by Lai Khanh; and 'Le tao mo nguoi Cham Bani' (Festival to clean and decorate ancestral graves of Cham Bani Ethnic Minority) by Tran Quoc Nam.
Le Tu Cam, chairwoman of the HCMC Cultural Heritage Association, said the photo contest not only honors Vietnamese culture but the organizers also want people to contribute towards protecting cultural heritage sites.
Sharing the same view, Noriji Yoshida, Managing Director of Canon Vietnam, said "Living and working in this country for years, the rich culture, kind people and beautiful nature has truly impressed me; hence let's join hands to protect the culture of this land."
After the prize-giving ceremony, the organizers will select 100 outstanding photos to display at the HCMC Museum on 65 Ly Tu Trong Street in District 1.